It may be July, but it's time to book your event entertainment. Exciting and engaging events are an essential part of any corporate calendar, since they can help to promote the company both externally and internally, while boosting morale and rewarding a job well done. The easiest way to ensure a successful event is to include stellar entertainment. Here are three ideas to guide you.
1.Know your audience: Consider the demographics of the attendees. Before you hire a Lady Gaga impersonator, make sure the majority of audience members are not octogenarians! Although they may remember the event, it may be a nightmarish vision rather than the sublime experience you were hoping for. A 1920s theme party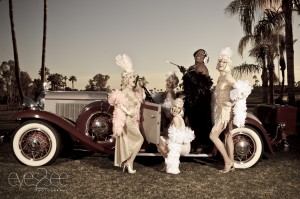 , an Impersonator show, or even a Wild West night complete with casino and saloon girls, has a much broader audience appeal.
2. The window of opportunity is open. Book now is good advice. Quality corporate entertainment with a high profile will often have its season set by the end of August. Don't lose out on what might have been a great event because you are still planning your vacation, rather than your companies' event calendar.
3. Make it Memorable. So many times a great band is hired, but because of  dinner, awards, and other necessities, guests head for the exit by the time the music plays. When you integrate the entertainment throughout the event, you can tell a story, highlight a successful moment, or simply celebrate a new brand. Consider this: a choreographed musical number that opens the evening and sets the mood. Throughout dinner, talent takes the stage for short, engaging moments allowing the audience to enjoy the food, the conversation, and the enterainment. This experience energizes an ordinary awards ceremony to become an award in itself, as the guests become part of the show. Here's just a peak of what your audience can expect…imagine selected pops of entertainment  from this delightful 1920s theme show. Enjoy!
[facebook_ilike]