Applause Productions & Entertainment
Whether you're planning an awards banquet, end-of-the-year party, or other gathering for your business, hiring one of these pops of entertainment will ensure cutting-edge corporate celebrations to remember.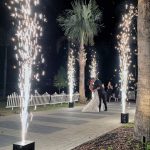 1. Innovative Lighting. With the addition of soft uplighting, pattern washes, intelligent lighting, themed lighting, full color digital gobo projection, full wall projection murals, or video mapping, your event will shine. Our audiovisual team creates a vision in light that breathes life, color, and creativity into your event. This technology can align with your theme, wedding or corporate event and utilizes the brilliance of 21st Century technology.
2. Out-of-this-World. Be ahead of your time with this exciting futuristic theme. This cosmic
new offering includes any number of unique entertainers. To set the stage for the evening, allow your guests to be greeted by our lollipop aerialist or robot figures. Continue to be amazed during the evening with our bubble girl, LED glow dancers or other specialized offering to suit your specific needs. Adding this theme to your next party is guaranteed to make the event out of this world!
3. LED Drum-line. From the time a precision drum line enters the performance area, your guests will know that they are in for a treat! These talented musicians display technical artistry and strong commitment to excellence in all areas of performance. Hire this group of percussionists for your next corporate event or special occasion.