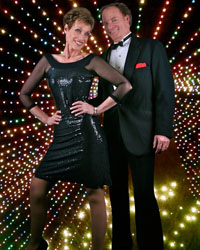 Whether its music, comedy, choreography, or specialty   entertainment, our staff has a passion for fresh and unique talent. Our   specialists have worked together in this exciting arena for two decades, providing you with the finest entertainment in the greater Phoenix area and elsewhere in Arizona.
Entertainment is that rare commodity that has the power to touch someone, whether it's a 50th anniversary party, your daughter's wedding, or a corporate extravaganza. Your guests will have a memorable experience because our talent will engage them. Each event is treated with the utmost care and innovative planning. Our staff is complete,comprised of specialists in entertainment, planning, staging, lighting, sound and choreography. Our team can conceptualize your event, book the entertainment, write a script, score music, and oversee an entire production into a seamless design.
Hire Applause Productions. You bring the guests and we'll bring the party.